It comes as no surprise that a 50 year old company would have a very seasoned team of field leadership as well. Solid field leadership is the life blood to any successful company, at GNLD our field leaders have helped countless thousands of individuals build successful businesses many of those businesses are providing a better way of life for second and third generation family members.
We are the people of GNLD…
People Empowering People®.
'We made over a million in sales in our first year-and-a-half!'
"We started a GNLD business because I wanted to stay home with our three children while earning a little extra money. When our business went over a million in sales, Norvel quit his job—and we built not one, but two beautiful dream homes!"
— Norvel & JoAnn Martens, 2 Diamond Directors former Purchasing Director & Homemaker
'We donate more to charities now than we used to earn in annual income!'
"We used to be $40,000 in debt. Now, we're financially free thanks to GNLD. Every time we drive through our electric-gated entrance to our 100-acre ranch, we feel so blessed! It's not everyone's dream, but that's just the point. With GNLD, any dream can become reality!"
— Chuck & Charlotte Shelton, 2 Diamond Directors, former Equipment Leasing Broker & Securities Assistant

'Our GNLD business has financed university educations for all 4 daughters, helped 3 of them buy new homes, and set up an education fund for our 8 grandchildren!'
"Plus, we have enjoyed an amazing 5,000-square-foot home on 200 acres. With GNLD, we live life to its fullest! Jerry has been able to indulge in his hobby with radio-controlled model aircraft."
— Gerald, Emma Jo & Natalie Krause, 1 Diamond Directors
former Aeronautical Engineer, Registered Nurse & Speech Pathologist

'GNLD is much more than a business!'
"We've got a lifestyle we truly love. With GNLD we went from no time, no fun and no assets to a life of freedom, luxury and fun with family and friends on 300 gorgeous, debt free acres in the beautiful Smokey Mountains."
— The Byrd Team, 1 Diamond Directors
former Physical Therapist/Executive Assistant
'We have the ideal lifestyle!'
"We're financially free to travel and enjoy life. We're free from paying time to a company in exchange for a paycheck. We're free to do what we love—help people and work from home !"
— Shirley & Bill Eggert, 4 Ruby Directors
former Registered Nurse
'We're achieving dreams we never thought possible!'
"After only a year and a half, we were halfway toward our original goal of retirement—but after seeing so many people's health and finances improve through GNLD, we can no longer envision retiring!"
— Lawrence & Marjorie Clark, 4 Ruby Directors
former Business Owner & Homemaker
'We love what we do!'
"GNLD is the best opportunity for the average person to build themselves a future, an asset they can pass on to their children and grandchildren. GNLD isn't work for us, it's like a party with friends—and we're enjoying every minute of it !"
— Lucille McAfee & James McAfee, 4 Ruby Directors
former Promotional Advertiser & Administrator
'We are an amazing community of people committed to living the good life. We believe in health, wealth, and unlimited potential in every human being.'
— Rader/Morrow, 4 Ruby Directors
former Pilot & Homemakers
'We quickly earned $40,000 in just 3 months!'
"Before GNLD, we were so busy working to survive, our lives were just passing before us. Now, we consider ourselves very rich—not just financially, but also from the quality time we spend with our children and each other. "
— Jacinth, Hubert & Tricia Waldron, 4 Ruby Directors
former Catering Company President, Chef/Carpenter & GNLD Partner
'Where there's a will, there's a way. We are not so different!'
— Diana Ramírez & Joaquín González Aragón, 5 Diamond Directors
As an international company GNLD is currently registered to do business in over 50 countries around the world. Within those 50 countries resides 1 billion of the world's population. With such a worldwide influence GNLD touches the lives of people from a variety of different backgrounds. And while it is true that we may be separated by cultural and language barriers one thing every GNLD distributor has in common is our commitment to the GNLD purpose:
Empowering people to take responsibility for their Health, Self Improvement, and Financial Independence.
In the area of Health, we empower people with knowledge and scientifically proven products to maximize your potential for lifelong health.

In the area of Self Improvement, we empower people with training, person-to-person support, and simple, time-proven tools that allow you to succeed by being yourself.

In the area of Financial Independence, we empower people by providing the keys to controlling your income and quality of life.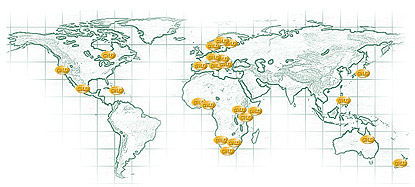 Australia – Austria – Bosnia – Botswana – American Samoa – Canada – Croatia – Denmark – Estonia – Finland – France – Germany – Ghana – Guam – Hungary – Iceland – Ireland – Italy – Japan – Kenya – Lesotho – Latvia – Mexico – Midway Island – New Zealand – Namibia – Nigeria – Norway – Philippines – Puerto Rico – Romania – Slovenia – Spain – Sweden – Switzerland – South Africa – Swaziland – Tanzania – Tobago – Trinidad – Uganda – U.K. – USA – Virgin Island – Wake Island