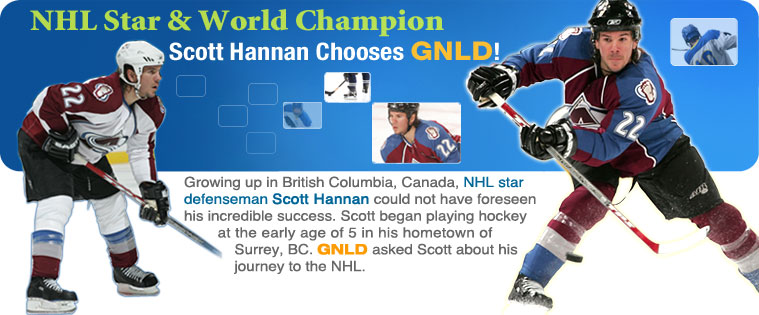 "Most kids in Canada start playing hockey pretty early. My mom threw me in when I was about five. I think she wanted to get me out of the house," Scott adds jokingly. "I continued playing community hockey in Vancouver, and, at 16, I was drafted by the junior hockey team in Kelowna."
Scott continued playing for the Kelowna Rockets for the next two years, until that special day, at age 18, when he heard his name, "… with the 23rd pick of the 1997 NHL Entry Draft, the San Jose Sharks select Scott Hannan…". We asked Scott to reflect on the day that changed his life.

"It was a special day sitting there in Pittsburgh. Sitting there with my family, my mom was there, my dad, my brother and my sister were all with me. And when they called my name, it was a special feeling. Growing up you always dream about it but when the day actually came it was pretty cool."

Two years later, at the age of 20, Scott Hannan's dream became reality. He was invited to play in the NHL with the San Jose Sharks. He continued as a star defenseman in San Jose for the next eight years, and along the way, earned a reputation as one of the top shut-down defenseman in the world. Scott demonstrated his durability by leading the Sharks in total ice time in each of the past four seasons. And this past season, Scott led the entire NHL in even strength ice time. He also proved himself reliable. Over the last four seasons, Scott has missed just 5 games out of 328 played. He attributes his durability to his training and his diet. Scott discussed the typical season, his training, and the difficulties of staying healthy during the season.

"Training never really stops. You might take a few weeks off after the season for a quick vacation. But when you return, you start right back in the gym. You really need to get back in the gym to gain the strength that you lose over the season. During the season, you might play three to four games in seven days. You're going to different time zones. Road trips can be brutal on your immune system. You depart one city and arrive the next at sometimes 3 AM. It's not easy to keep a good diet under those circumstances. In the summer it's pretty easy to keep my diet regimented, but during the season, it is just very difficult."

Six years ago, Scott was introduced to GNLD and the benefits of supplementing his diet with key nutrients found only in GNLD products. Scott started with PhytoDefense® and later added more products as he discovered more gaps in his diet. We asked Scott about using GNLD products and what he currently takes.

"When I was first introduced to GNLD, I was a little into nutrition but only to taking a multi-vitamin every once in a while. What attracted me was the accessibility; it's so easy to carry around. You just throw the packets in your bag and it's easy to take. The difference I noticed was on the road, in a plane, a hotel room, or a bus and the dressing room… one guy gets sick and he gets kind of isolated. I've just been able to keep my immune system up, which is just one of the most important things during the season. If you miss a game, it just hurts the team. You just have to keep your energy levels up. I liked the product Phyto so much, I've added Vitamin C & E, Omega III Plus, Tre-en-en, Cal-Mag, Stress 30, Liver Plus C…the list goes on and on. I've added GR2 Protein as well."

Commonly found in GNLD are people sharing the products after having positive results themselves. Scott is no different. He shared GNLD with his San Jose teammates last year. The Sharks began using GNLD last season and continue to use them today. But Scott has not stopped there. After signing as a free agent with the Colorado Avalanche—a four-year contract for $18 million—he has started sharing GNLD with his new teammates.Additionally, Scott has picked up where he left off in San Jose, leading the Avalanche in even-strength ice time this season.

Over his career, Scott has achieved some amazing honors. In 2004, Wayne Gretzky invited Scott to play for Team Canada at the World Cup of Hockey, where Scott and Team Canada went on to win the World Cup. In 2005, Scott was again invited to play for Team Canada at the World Championships of Hockey, where he took home the silver medal.


"These products have helped me achieve my goals," Scott explains simply. "When you start the season, the goal is to stay healthy, keep my energy levels high, and not lose the strength and endurance you build over the summer. By using GNLD products, I'm able to perform at my peak the entire season."

It is a privilege to share Scott Hannan's story with you, and we would like to thank him for being such a great ambassador for GNLD.