Lyn and Don Mitanoff
Sapphire Directors Lyn and Don Mitanoff reside more than an hour outside Toronto, where GNLD Experiences are held regularly. They love the events, but it didn't make sense to ask potential Distributors and customers to make the long drive into the city to attend a GNLD Experience, especially after a long workday. So Lyn and Don decided to make the GNLD Experience a local event.
The Mitanoffs packed up banners, boxes of demo materials, a blender, brochettes, applications, and GNLD products, and took the GNLD Experience to their hometown. They scheduled their first local GNLD Experience, and invited 46 guests. "We had no idea how successful we'd be, but we thought it was worth a try," Lyn says, smiling. Since twenty of the attendees were brand-new to GNLD, Lyn and her team arranged a number of demo tables so guests could learn about individual GNLD products and even sample several of them. Local Distributors also demonstrated G-One and LDC homecare products, so Experience guests had plenty of opportunity to "Feel it, see it, and hear it" with a variety of GNLD products.
Looking back, Lyn says, "People had fun, and it was so exciting! The whole Experience was very interactive and comfortable for the people we invited, and for us."
They decided to take the GNLD Experience "on the road." In recent months, the Mitanoffs have joined other local Distributor teams to hold very successful GNLD Experiences in locales away from large cities. They put out the word that a GNLD Experience is coming, and local Distributors invite friends and prospects to attend. It's as simple as that. "Anybody is welcome. That's what's unique about GNLD. Our GNLD Experience team is made up of people in our group and people from other lines, all working and training together. We all agree: The more we do together, the more the image of GNLD is enhanced, and the more we all benefit!"
Dr. Earl & Carolyn Glenn
For some people, giving back to the community is a hobby. Carolyn Glenn says that, for her husband, it's a passion. "He doesn't say it directly, but Dr. Earl just isn't comfortable unless he is helping someone out."
With Earl's successful dental practice and Carolyn's successful career as a teacher and administrator, financial reward did not motivate the Glenns to begin a GNLD business. The opportunity to assist others in achieving their goals, however, was too much to pass up.
Of course, the Glenns scrutinized GNLD before joining. And like so many others, they were impressed with the products. Dr. Glenn explains, "With my medical background, I could reconcile the GNLD product connection with the science I know. When you have sick cells becoming healthy cells, you will feel better."
Once they discovered the products, the Glenns' review of the GNLD Opportunity left them equally impressed. They knew their varied endeavors and schedules made owning their own business a perfect fit, but both Earl and Carolyn understood the drawbacks to owning a business—which made them appreciate the GNLD Difference even more! "Owning your own business gives you the opportunity to make your own decisions," says Carolyn, "but it also can mean feeling burdened by the solitude. Very few businesses can be yours, yet still offer support. With a GNLD business, though, it really is your business: You receive monthly reports, shipping, personal Web sites, customer service—not to mention bonuses! But there is also an amazing amount of resources to assist you with your business!"
Nada & Gilles St. Germain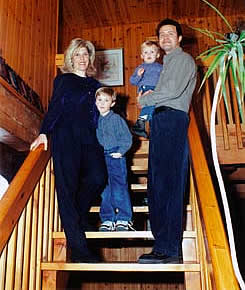 "The 30-second commute on the way to a Million-Dollar business!"
"Become a Distributor and build a business? No thanks!" said Nada when she first heard about the GNLD opportunity.

"I loved GNLD products, but I just couldn't see myself building a business, let alone teaching others to do the same. But as soon as we realized that no other products on the market delivered such life-changing benefits, Gilles and I agreed to give the business a try. What we discovered is that GNLD products sell themselves — we simply share people's exciting stories! Soon, my earnings became so great, I was able to quit my full-time job as a police officer and work from home, which is a lot more rewarding!" says Nada.

As a police officer, Nada faced a terrible commute on a daily basis. In the winter, she battled Canada's sleet and snow, in the summer, it was high heat and humidity. Nada worked long hours in stressful conditions and would often greet Gilles on his way to work the night shift.
Today, Nada and Gilles enjoy a dream lifestyle with GNLD! Nada no longer wakes up at the crack of dawn to fight a dreadful drive. She simply walks down the stairs to her office — it's the perfect 30-second commute! Working at home gives Nada the freedom to spend as much time as she wants with her two young sons, Jack and Luc, ages 4 and 2. "Nobody controls my time. I decide my schedule, which is what I love about owning a GNLD business," says Nada.
The monthly GNLD income generated from their growing business has helped Nada and Gilles turn their dreams into everyday life. Being home together with their boys in an authentic, custom-made log home on 33 acres of pure countryside is just one example. Their GNLD income also allows them to enjoy a Mercedes, a Harley-Davidson motorcycle, and a GMC SUV.
And life keeps looking better every day! Their consistent GNLD income convinced Gilles to retire from the police force last year at age 35! "Thanks to our unlimited income potential, strong health, and long-term retirement, we're looking forward to an amazing future!" exclaims Nada.
As the St. Germains have discovered, financial freedom, time flexibility, breathtaking real estate, and exciting opportunities are just some of the wonderful possibilities with GNLD!
Chuck and Charlotte Shelton
Dreams Come True—Past, Present and Future
Chuck and Charlotte Shelton have always had big dreams. But for many years, they didn't know how they were going to make those dreams come true. Charlotte was working with government securities and CDs while Chuck owned his own leasing business, but, as Chuck says, "We couldn't see how we could ever get ahead." Charlotte adds, "Every day at work I saw tens of thousands of dollars being made on investments, yet my efforts only rewarded me in a small paycheck. Chuck and I knew we had the ability to succeed but we just hadn't found the right opportunity."
Then in 1975, Chuck and Charlotte discovered Golden Neo-Life Diamite. "We wanted to get out of debt and out of the big city. We didn't want our jobs to dictate where we lived. GNLD was the answer," says Chuck. Three years after they found GNLD, the Sheltons bought a 100-acre ranch and, as they proudly say, "it wasn't long before we had it paid off." Charlotte adds, "It's a beautiful setting complete with two creeks, two ponds, 24 varieties of trees, and a fish-stocked lake — the kind of place we've always dreamed of owning."
Over the past 22 years, the Sheltons have continued to build a thriving business and today they travel to luxurious destinations like Tahiti and Australia, and drive fabulous cars. Charlotte explains, "GNLD has afforded me the pleasure of buying my husband a Jeep Safari, just as a surprise gift! We also recently decided to purchase a Lexus — and paid cash!" Chuck adds, "Our future is very secure. Now we've started working on realizing some other dreams. We're drawing plans to remodel our ranch and we're looking for a second home in Colorado. Plus, today we are able to give away more money to charities than we used to make in annual income."
Every time the Sheltons drive through the gates of their ranch, they feel like they're arriving at a fabulous resort. Llamas, swans, peacocks, and a Grand Canyon burro wander among more familiar horses, and Texas Longhorns. They admit, "This wouldn't be everyone's dream, but that's just the point. Whatever you want out of life, it can be yours with a GNLD home-based business!"